For 05-15 Toyota Tacoma Replacement LED Tail Lights Brake Lamps Pair Red Smoke
You save:
$86.00
( 43.00 %)
100% Brand New
High performance Aftermarket LED Tail Lights
Perfect replacements or upgrade for factory taillights.
These taillights are quality tested for fit, performance and durability
The taillights kits provide intense light beam concentration.
Add the Finishing touches to your car with Exclusive Line of LED taillights for your vehicle.
The latest in euro taillights styling and design replacement.
Provides the satisfaction of having the latest euro look within minutes.
Will dramatically improve road look.
Lens will never dull or discolor like the cheap plastic lens
OE-quality polycarbonate lens
OE-quality coating materials
NOTES
No Installation Guides Are Included, Professional Installation Suggested
Does NOT include Reverse Bulbs.
Wedge Plugs directly plug into OEM Bulb sockets (Requires the reuse of OEM Bulb Harness)
INSTALLATION
Installation is very easy on the tail lights.
If you look at the back, you will notice some wedge type of connector.
It is not the same as the OEM plug. Instead of taking off your original harness
you would simply plug the wedge bulb directly where the bulb would normally go to power the tail light.
If one of your tail light bulbs were to go out, you would simply purchase new bulbs and take out the old bulb, this is where the wedge would plug right in.
The housing of the tail lights hold the LED circuit board so the entire housing will act as your bulb. I hope this makes sense.
Please let us know if you have any other questions on the installation of the tail lights.
FITMENT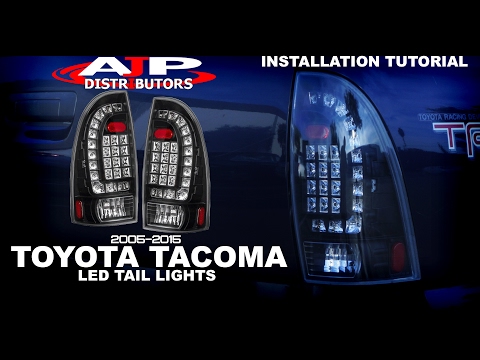 05-15 TOYOTA TACOMA LED TAIL LIGHTS INSTALL - AJP DISTRIBUTORS - YouTube
Video will open in a new window
CONTINUE SHOPPING :
Customers who bought For 05-15 Toyota Tacoma Replacement LED Tail Lights Brake Lamps Pair Red Smoke , also bought these items: